This guide is for users using Windows 10 to access their Windows Server (VPS and Dedicated Servers). While these steps may work with other versions of Windows, there may be some slight deviations. 

In order to access your Windows Server, you'll need to get the credentials we've provided. If you purchased a VPS this information will arrive in an email with the subject "New Virtual Private Server Information" and if you purchased a Dedicated Server this

information 

will arrive in an email with the subject "Your server's new login credentials".

Now with this information (IPv4 Address, User: Administrator, Password: Sent via Email) open the "Remote Desktop Connection" application, pictured below.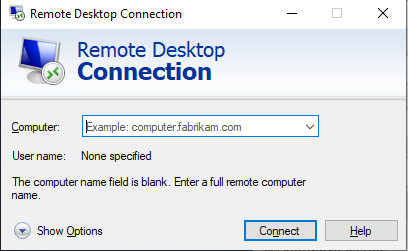 In the computer name field, enter the IP Address provided via email, and press connect. You will then be prompted for credentials.
Username: Administrator
Password: Provided via Email

You are now logged into your server! For additional articles please review our knowledgebase.